WP Coupons was developed by affiliate marketers for affiliate marketers to help increase your CTR and conversions and specifically to help bloggers take a creative approach to promoting products and at the same time increase their CTR and conversions.
WP Coupons starts from $29.95/year/1 site, and there is a 15% discount automatically applied to all renewals, 30-Day Money-Back Guarantee.
WP Coupons is fully responsive and scales great on desktops, tablets, and mobile phones. WP Coupons doesn't use any JavaScript on the front-end and is only 5 KB and is also no jQuery dependency.
WP Coupons Features:
Styles – Minimal and easy to use dashboard with one-click toggles and style options. Change fonts, colors, spacing, and more.
Widgets and shortcodes – Built-in widgets, templates, and shortcodes allow you to place your coupons anywhere on your site.
Lightweight – We take performance very seriously! Clean code, no bloat, and lightweight at under 5 KB. No JavaScript on the front-end.
Coupon features – All the coupon options you need: Click to reveal, copy to clipboard, expiration dates, and different link attributes.
Works on all devices and themes – Scales beautifully across desktops and mobile. We coded our plugin to work with all themes and page builders.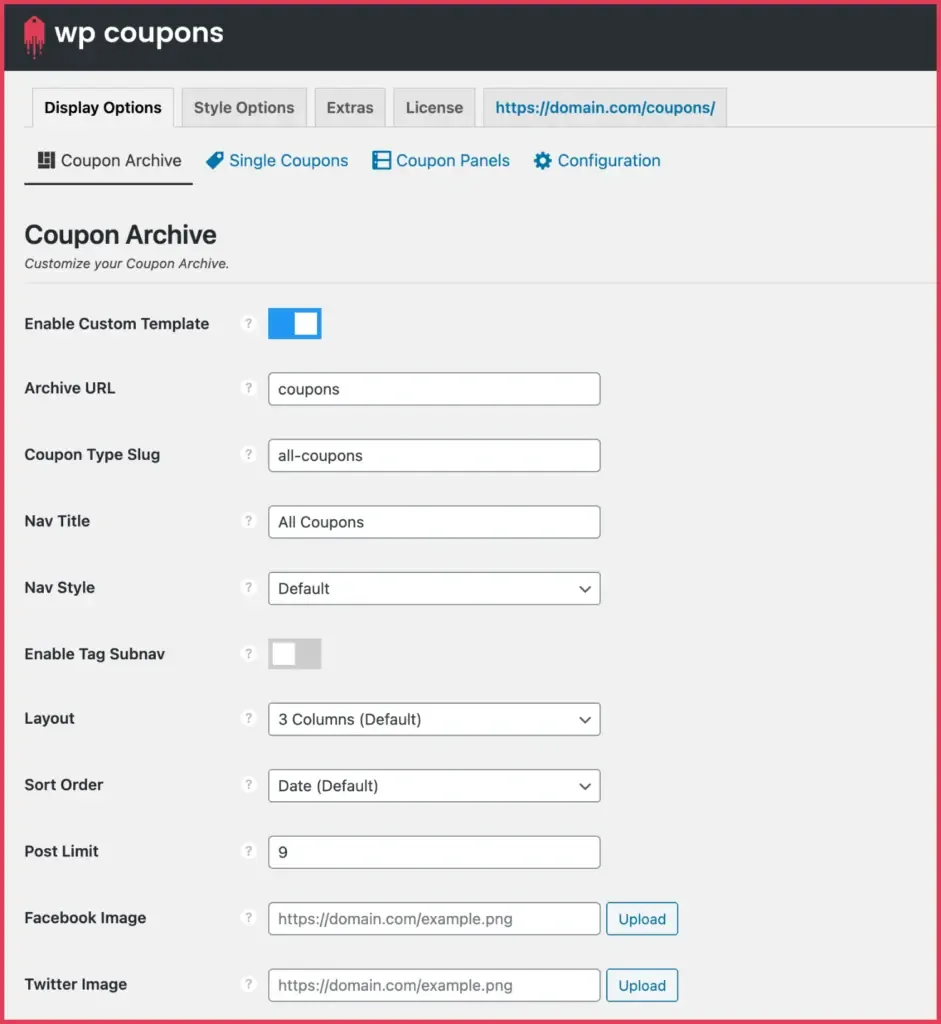 WP Coupons has numerous display settings you can choose from on how you want coupons to appear on your site.
There is no admin menu clutter, and we take advantage of native WordPress styling, so you don't have to learn a new UI.
Archive templates - You can also use a shortcode [ wp_coupons ] to print out your coupons.
Archive URL - Change your archive and coupon URLs to whatever you want. It defaults to coupons, but you can use deals, discounts, it's up to you.
Navigation - Change the navigation title and choose from 3 different styles: Horizontal (default), vertical, and a dropdown. You can also enable a subnav with your tags.
Coupon Layout - Includes 7 different archive templates to choose from: 2 columns, 3 columns (default), 4 columns, 5 columns, list view, list compact view, and list minimal view.
Choose between different sort orders: Date (default), last modified, title, and random.
Check out all the other display options you can choose from:
Change page width and padding
Set Facebook and Twitter images
Display expiration dates
Change expiration behavior
Change expiration recurrence
Change coupon description height
Set archive post limit
Change the CTA text
Display discount codes
Hide coupon type labels
Change or hide no coded text
Display related coupons