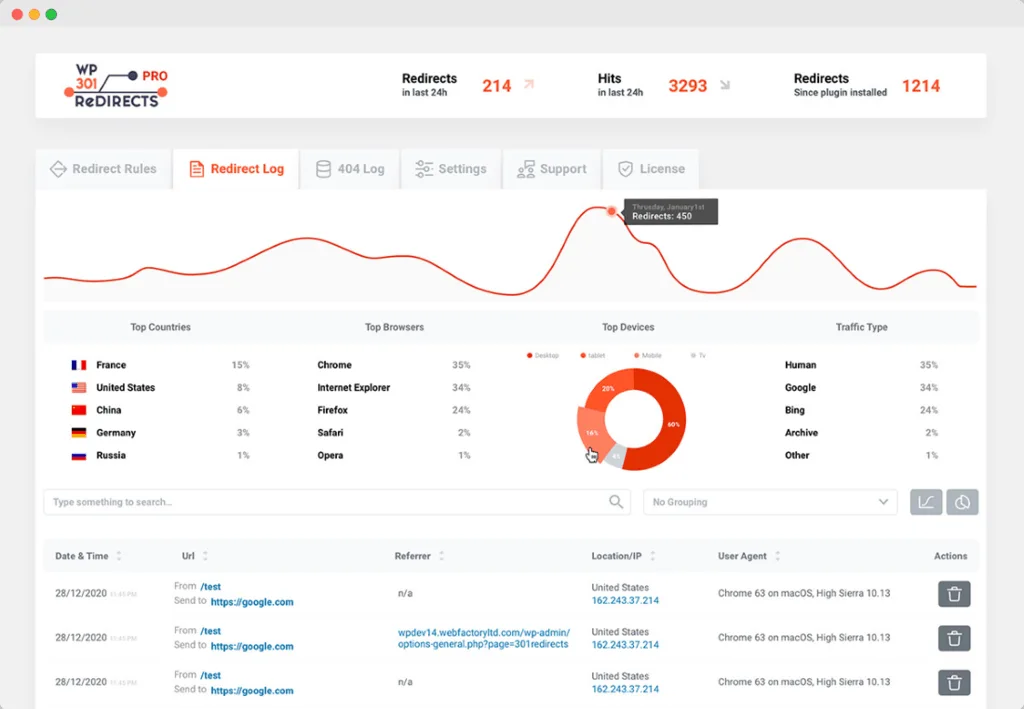 WP 301 Redirects PRO offers wildcard & regular expression URL matching, auto-typo fixing in URLs, complete redirect and 404 log, link scanner, and a centralized SaaS dashboard to monitor redirects on all your sites from one place.
WP 301 Redirects PRO Features:
Instantly Boost Meaningful Traffic – Instead of users hitting the dreadful 404 page they'll get redirected to the page they wanted to see while bad bots get ignored.
Take Control Over Redirects – It doesn't matter if you changed your URL structure or you need nice outgoing affiliate links. Easily handle any redirection.
Scan & Verify Every Link – Linking to bad sites makes your site bad! Quickly check every outgoing link on your site to determine if it's broken or leading to malicious sites.
Ignore Bad Traffic – Automatic redirects don't work on bad bots – they are simply ignored and get the standard 404 page. Don't worry, Google is whitelisted.
Know Exactly What's Going On – Built-in charts give you the information you need to know what's going on without the bloat of tools like Google Analytics.
WP 301 Redirects PRO AGENCY Plan /  $99 – Lifetime License
100 Sites – Only $.99 Per Site
200 Site Scans
All Plugin Features
Licenses & Sites Manager
Remote Site Stats & Logs
Whitelabel Mode
Full Rebranding
Branded PDF Reports
Priority Support