Slider Revolution is a versatile WordPress plugin helps beginner-and mid-level designers WOW their clients with pro-level visuals.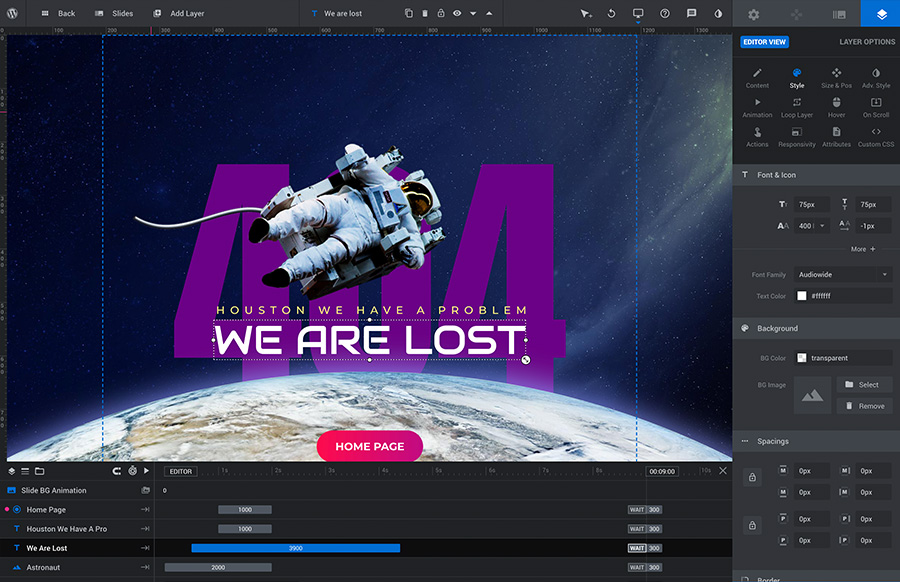 200+ READY TO GO TEMPLATES

The right template for every occasion
From simple headers to full websites
Special FX templates with add-ons
New templates added regularly

2000+ ELEMENTS OBJECT LIBRARY

Assorted background images
HTML5 Videos
Object PNGs
Font Icons & SVGs
Premade Layer Groups

20+ POWERFUL ADD-ONS INCLUDED

Unparalleled possibilities
Special effects
Optional plugins
New add-ons added regularly

THE VISUAL EDITOR YOU WANT TO WORK WITH

Better usability
Work faster & more efficiently
Eye friendly dark user interface
Improved loading times

THE ANIMATORS DREAM. NOW WITH KEYFRAMES

Easy to understand structure
In-depth animation settings
New easing types
Animation presets

MIGHTY NEW CONTENT. PURE INSPIRATION

Many New templates
New images, videos, icons, etc.
Premade layer groups
Quickstyle layer presets
Add-Ons

INSTANT SOLUTIONS AT YOUR FINGERTIPS

Comprehensive FAQ
Detailed & structured documentation
Growing video tutorial list
Constantly updated content

LIVE HELP WITHIN THE EDITOR

Explanation for any option
Search & highlight options
Documentation & FAQ

EASY, INSTANT UPDATES

The fastest way to update
Be the first to receive updates
System requirements analysis
Constantly updated content
This post was created with our nice and easy submission form. Create your post!
Hits: 1