Firstr is a WordPress Admin Theme and has 760 sales on CodeCanyon.net.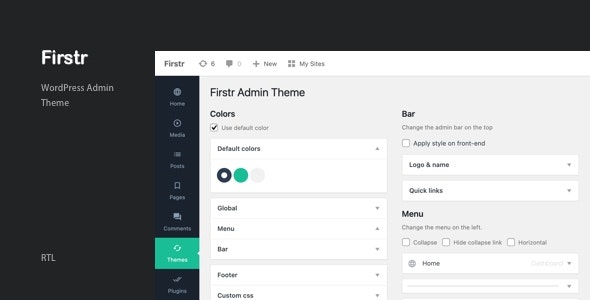 Custom Admin bar, menu, icons and colors.
1: ADMIN BAR
Change the admin bar on the top
Custom admin logo
Custom admin name
Hide admin name
Hide quick links
2: MENU
Rename/Remove the menu/submenu on the left
Rename menu/submenu title
Remove menu/submenu
3: LOGIN PAGE
Change the login page logo
Custom login page logo
Change the logo link
Change page background color/image
4: FOOTER
Change admin footer text and version
Change footer text
Change footer version
5: STYLE
Change the icons and colors
Choose menu icons
Choose colors
Support profile colors(wp default 8 colors)
6: EXTRA
Disable open-sans font from google webfont api
Use local open-sans fonts
Import/Export
This post was created with our nice and easy submission form. Create your post!
Hits: 0