Quform is an advanced WordPress form plugin that allows you to quickly and easily build multiple forms with total control.
Quform has more than 30000 sales on CodeCanon.net!
Whether it's a complex quote or booking form or just a simple contact form, Quform will allow you to do all this without touching any code.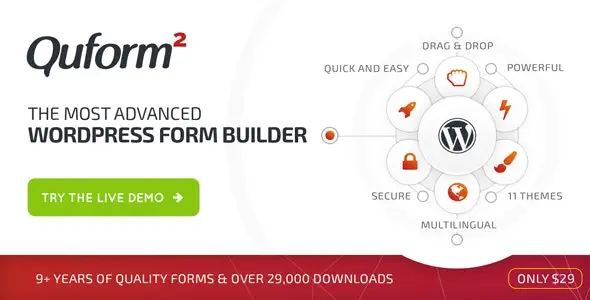 Using the Quform builder is made simple with drag-and-drop and one-click functionality and it's compatible with all major browsers.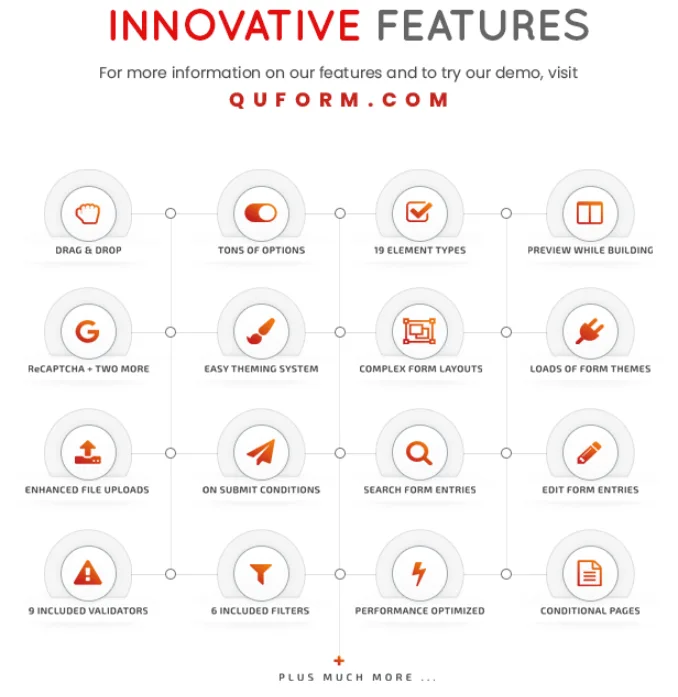 Multi-page forms
Edit entries
Duplicate element
Submit button element that can be moved
Unlimited emails can be sent from a single submission
Conditional logic on notifications
Add attachments to notifications
Limit form entries
Form scheduling
Confirmation system logic
RTL support
Labeling system for form entries
Trash forms and entries
Migrate tool
Performance enhancements
CSRF protection
Fancybox 2 and Magnific Popup supported
Kendo UI Timepicker and Datepicker
Add background images or icons on Checkbox or Radio elements
Optgroups in the Select and Multi Select
Side-by-side elements in the form builder
Column Layout element for complex form layouts
Export entries directly to a .xls, .xlsx, .csv, .ods or .html file
19 included element types
reCAPTCHA v3
Create a form without knowing any HTML or PHP!
Responsive forms
Drag and drop form elements
Fully translatable
Easy to use user interface
View submitted form entries inside the WordPress admin
Send submitted form data via email
Conditional logic to show/hide fields
Dynamically set form values from the URL
File uploads, sent as attachments or saved to the server (or both)
Preview while building
File upload progress
Conditionally set recipients based on form values
Save form data to a custom database table
6 optional filters to strip unwanted submitted data
15 optional validators to require specific data from the user
Import/export forms across websites
Prevent spam with 3 CAPTCHA options: honeypot, image and reCAPTCHA (v2 checkbox, v2 invisible and v3 supported)
Plenty of help and support
Fully compatible with WordPress 5.2 or later (5.8.x compatible)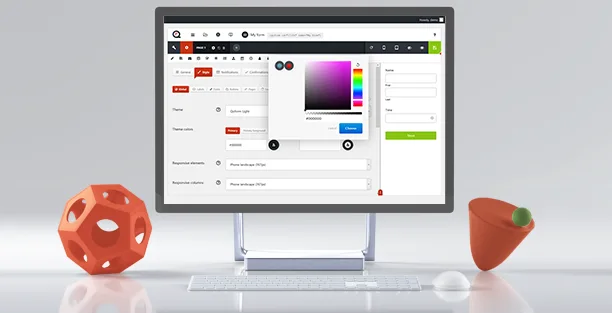 Quform Elements
Text
Textarea
Email
Select menu
Checkboxes
Radio buttons
Multi-select
File upload
Date
Time
Name
Password
HTML
Hidden
Captcha
ReCaptcha
Submit button
Groups
Column layouts
Quform Styling features
11 themes included
Pre-built Bootstrap theme
Create your own themes
11 button styles
3 label layouts
Loads of loaders
Cool button animations
Easily modify form colors
Easily modify element sizes
Add custom device targeted CSS
Add custom classes to elements
File upload dropzone
Includes FontAwesome
Responsive columns
Various radio and checkbox styles
Select2 enhanced multi-select and select
qTip2 tooltips with 12 included styles
Group elements to separate sections or for layout
Unique identifiers make it easy to manipulate an element
Customize colors with a color picker