WP Offload SES is a plugin that takes over email sending for your WordPress site, sending all site emails through your Amazon SES account.
It offers the benefits of sending your site emails through Amazon SES without the negatives.
WordPress' default email sending functions just don't cut it these days.
So some folks set up an SMTP plugin to use their existing email provider (e.g. Gmail, Outlook.com, Yahoo, etc) to send their WordPress emails but then find out the hard way (i.e. emails not getting delivered) that there's a daily hard limit on the number of emails they can send.
Sending WordPress emails through SMTP is simply not worth the risk.
Other folks try sending services like Postmark, Mailgun, Sendgrid, etc but realize that they're expensive and their
With WP Offload SES Lite, you get the high deliverability, powerful managed infrastructure, and low cost of Amazon SES but with the support of a quality WordPress plugin that's easy to set up and lets you know when there are sending failures.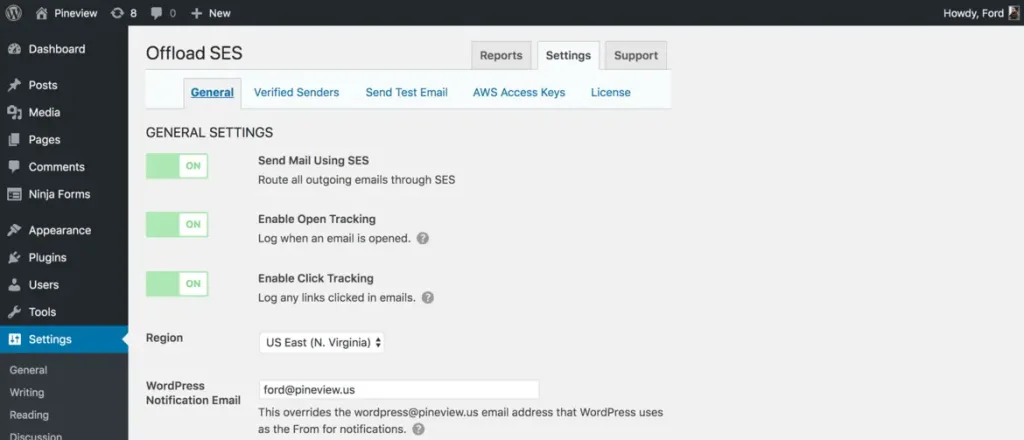 WP Offload SES Lite Features
Effortlessly configure your site to send all email via Amazon SES with our step-by-step setup wizard
Configure the default email address and name that WordPress uses for notifications
Verify sending domains and email addresses
Send a test email to make sure everything is working before enabling site-wide email sending
View a list of all emails sent from your site
View statistics on your Amazon SES send rate
Set up a custom "Reply To" and "Return Path" address
Weekly health report in your inbox gives you confidence your emails are sending
Configure multisite subsites to use different email settings, or enforce the same settings for your whole network
Integrate with your favorite form and newsletter plugins, including Ninja Forms, Contact Form 7, Gravity Forms, Email Subscribers & Newsletters, and more
WP OFFLOAD SES (Pro) Features
step-by-step SETUP WIZARD
OPEN & CLICK TRACKING – Implementing tracking for your emails in Amazon SES is a painful undertaking.
OPEN & CLICK REPORTING – It's important to be able to measure the engagement of your site emails.
AUTO-RETRY EMAIL SENDING FAILURES
MANUALLY RETRY EMAIL SENDING FAILURES – WP Offload SES will automatically retry sending a few times before giving up and calling it a failure.
MANUALLY RESEND ANY SENT EMAILS – You can find that email in WP Offload SES and resend it in just a few clicks.
SEARCH FOR ANY EMAIL – Amazon SES doesn't log emails sent on its own, let alone allow you to search for a sent email.
VIEW A SPECIFIC EMAIL – WP Offload SES saves the full content of every email sent through your WordPress site, allowing you to view exactly what your customers were sent.
ANALYZE ENGAGEMENT FOR A SPECIFIC EMAIL – Simply search for the email, click View Email and you can see how many times they opened that particular email and how many times they clicked on the links.
VERIFY SENDERS FROM YOUR WORDPRESS DASHBOARD – No need to login to the AWS console to add/remove sender emails or domains, you can do that right from your WordPress dashboard.
WEEKLY HEALTH REPORT GIVES YOU PEACE OF MIND
MULTISITE COMPATIBLE
WP OFFLOAD SES starts from $80/ 1 site / 1 year
New Customer Offer — Get 20% off your first year of WP Offload SES